The Galactic Federation through Wanderer of the Skies
Himmelswanderer 7. November 2011
Grüße von der Föderation!
Wir möchten mit euch über Vertrauen sprechen. Für die meisten unter euch ist Vertrauen alles, was ihr im Moment "in Händen" habt. Ihr habt uns noch nicht gesehen, noch nicht mit uns kommuniziert, habt kein reales Wissen über unsere Existenz – außer durch Botschaften wie diese hier. Ihr wurdet noch nicht an Bord unserer Raumschiffen eingeladen, habt keine reale Möglichkeit, zu wissen, ob irgendwelche der Botschaften, die da durchkommen, von der Föderation, aus geistigen Quellen oder anderer Herkunft sind – etwa der Vorstellung derer entspringen, die diese Worte zu Papier bringen. Dennoch akzeptiert ihr sie, weil euer Herz euch sagt, dass da die Wahrheit durchklingt, die euch von anderer Seite bisher verschwiegen wurde. Das ist Vertrauen. Es ist nicht weniger kraftvoll für euch als der religiöse Glaube anderer Menschen. Und in dieser Hinsicht müsst ihr immer wachsam bleiben bei dem, was ihr über uns hört, oder aber über die hört, die vorgeben, sie wären wir, und auch bei dem, was Außenseiter zu Recht an diesen Worten kritisieren.

Ihr habt in euer Vertrauen einbezogen, dass ihr euch in ein neues Zeitalter der Existenz hineinbewegt. Entweder werdet ihr im kommenden Jahr und darüber hinaus die Bestätigung dafür haben, oder ihr müsst alles, was ihr seid, neu bewerten. Auf jeden Fall seid ihr hinsichtlich einer Realität erwacht, die bisher jenseits eurer "wildesten" Vorstellungen lag. Es ist eine Welt, die nicht aus statischen Dingen besteht, sondern erfüllt ist mit beweglichen Energien, die mit eurer Urexistenz koexistieren. Das ist die wahre Natur von "Realität", und diese Tatsache müsst ihr für euch selbst einordnen.

Wir stehen fest in unserer Position, dass alles, was wir euch gesagt haben, real ist und der Wahrheit entspricht. Ihr müsst akzeptieren, was ihr akzeptieren könnt und den Rest in euer Ermessen stellen. An diesem Punkt habt ihr euren freien Willen und trefft eure eigene Entscheidung. Steht ihr hinter einem Staatsführer der Ersten Welt, von dem wir euch wiederholt gesagt haben, dass er euch erfolgreich aus dem Griff der Illuminati befreien wird? Oder erliegt ihr dem Druck der so genannten "realen Welt" und glaubt das, was euch aus diesen Quellen erzählt wird? Noch einmal: Die Entscheidung liegt bei euch. Und bedenkt dabei immer, dass ihr selbst euch eure eigene Realität schafft. Lasst euch da nicht auf Missverständnisse ein. Ihr seid für euer eigenes Schicksal verantwortlich. Niemand sonst.

Ihr werdet bald eine umfangreiche Schau unserer Raumschiffe erleben – über einer großen Stadt eines Europäischen Lands, als unserer Bestätigung, dass wir da sind. Wir kennen eure Sorgen, eure Ängste, eure Schmerzen und eure Unzufriedenheit. Lasst dies unsere Maßnahme sein, euch, unsere Freunde, zu beruhigen. Vor der Dämmerung ist es immer am dunkelsten. Dies war nie ein einfacher Weg, dem ihr gefolgt seid; aber ihr habt ihn auf großartige Weise bewältigt. Wir können nicht stolz genug auf euch sein! Wir müssen nur noch eine kleine Wegstrecke gehen; dann werdet ihr in der Tat anfangen zu erkennen, was wir mit Business meinen.

Wie wir bereits sagten, sind die Enthüllungen das erste große Ereignis, durch das ihr physische Bestätigung dessen haben werdet, was wir euch berichtet haben. Wir werden es euch sozusagen "an die Türschwelle" bringen. Ihr habt die Kluft für uns inzwischen so gut überbrückt, dass wir uns tatsächlich daran erfreuen können, entspannt zu erleben, dass ihr nun selbst bis zum Ende die Kontrolle über euer eigenes Schicksal in die Hände nehmen könnt.

bald werden einige Regierungen der Welt Anklageverfahren bekannt geben, die gegen Hauptverantwortliche in den internationalen Finanzmärkten erhoben werden, als Reaktion auf eure Proteste und auf die zunehmende Energie des LICHTS, das rasch all die Dunkelheit beiseite fegt. Das sind dann nicht nur "Vorläufer" der Beweise und Zeichen, die ihr braucht; – es sind die Zeichen selbst! Hört auf, eure Augen vor alldem um euch zu verschließen, was Beweis und Bestätigung genug ist .

Bleibt positive in dem, was ihr sagt und tut. Bedenkt, dass ihr euch in dieser Hinsicht alle in derselben Situation befindet. Wir alle haben unsere Rollen wahrzunehmen, und jeder füllt seine Rolle so aus, wie sie sich für ihn richtig anfühlt. Holt euch Ermutigung von denen, die in ihrem LICHT der Wahrheit nicht schwankend werden und einen langen Weg zu gehen haben, um denen zu helfen, die trotz ihres Vertrauens noch Zweifel hegen. Zeigt einander die Liebe, die ihr alle verdient, dann wird sie euch in Freundlichkeit erwidert werden.

Seid in Frieden.
Channeler: Wanderer of the Skies/
Himmelswanderer
Übersetzung: Martin Gadow
http://wandereroftheskiesrussian.blogspot.com/ - RUSSIAN
http://wandererinpolish.blogspot.com/ - POLISH
http://arabicwanderer.blogspot.com/
- ARABIC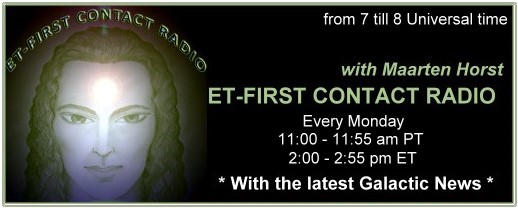 Every Monday night from 8 to 8:55 pm
channelings and related matters are being discussed on First Contact Radio.
The show is hosted by Dutch lightworker Maarten Horst and is presented in English.