The Galactic Federation through Wanderer of the Skies
Himmelswanderer 19. November2011
Grüße von der Föderation!
Heute sprechen wir über den Plan für die Enthüllungen, der sich in eurer Welt entfaltet. Zwei Führungsleute eurer Kabalen, wichtige Mitglieder einer herrschenden Gruppe, die für die unter falscher Flagge durchgeführten Operationen verantwortlich waren, mit denen sie unsere Enthüllung untergraben wollten, haben kapituliert. Sie wurden in sichere Zonen verbracht, damit sie keinen Kontakt mehr haben können zu denen, die gern ihre Autorität übernehmen würden, um jene Pläne umzusetzen, die die Illuminati hinsichtlich des Enthüllungs-Szenarios entwickelt hatten. Sie wurden effektiv neutralisiert, damit sie keinen Schaden mehr anrichten können.

Ihr müsst bedenken, dass zwei unterschiedliche Kräfte auf eurem Planeten am Werk sind. Die eine Seite ist auf außerirdische Wesenheiten ("Off-Worldler") zurückzuführen, die bestrebt waren, euch zu beherrschen und eure eigene Menschen-Spezies für Macht-Positionen zu missbrauchen, und sie trauten nur denen, die sie mit Habgier infizieren und mit Aussicht auf Macht bestechen konnten. Die Anderen sind jene Günstlinge aus euren eigenen Reihen, die sich entschieden hatten, sich von der übrigen Bevölkerung abzusetzen, um der Dunkelseite zu dienen. Wir werden mit jenen (dunklen) "Off-Worldlern" fertig werden, wie wir es bereits getan haben, einschließlich der Zerstörung ihrer Unterwasser-Einrichtungen, von denen aus sie über sehr lange Zeit hinweg operiert haben. Es ist an euch, Gerechtigkeit in eurer Welt und an Euresgleichen walten zu lassen, wenn die Zeit dafür reif ist. Eure Systeme werden für diese Möglichkeit bereitstehen. Wir sind gewiss, dass dieser Prozess zu humanen Handlungen führen wird und nicht zu Rache-Aktionen, denn das wäre vergeudete Energie und würde nur dazu dienen, Dunkelheit zu erzeugen.

Der göttliche Plan ist bereits in Kraft. Ihr könnt eine Botschaft von uns erwarten, die wir den Völkern überbringen werden, wenn wir kommen. Sie wird all eure Institutionen umgehen und die Völker direkt, ungefiltert und unverändert erreichen. Wir werden zu euch sagen: "Völker der Welt: Habt keine Furcht, denn wir kommen in Frieden! In künftigen Tagen werdet ihr in der Lage sein, mit uns zusammen zu sein. Für den Augenblick bitten wir euch, keine Panik oder Furcht vor uns zu haben. Wir kommen von überall her aus diesem Universum und darüber hinaus, – um euch in diesen kommenden Zeiten zu helfen. Wir möchten euch weder erobern noch versklaven oder beherrschen. Die Zeit der Beherrscher über euch ist vorbei. Ihr seid frei. Wir sind gekommen, um darüber zu wachen, dass diese Freiheit Wirklichkeit wird, und wir wünschen euch einzig und allein Liebe und Frieden. Wir sind hier, um euch über eure wahre Geschichte aufzuklären, – ein Mosaik aus dem, was ihr einst wart, und was geschah, dass das aus euch wurde, was ihr jetzt seid, – eine Wahrheit, die euch sehr lange verheimlicht worden ist. Wir sind eure Familie und möchten uns mit euch als ein Volk wiedervereinen. In der kommenden Zeit werden eure Staatsführer euch über unsere Anwesenheit auf eurer Welt informieren, die bereits bestand, lange bevor ihr geboren wart. Wir möchten, dass ihr zu kosmischen Bürgern werdet und mit uns die Sterne besucht. Eure Zeit, euch weiterzuentwickeln, ist gekommen, und damit kommt eine große Verantwortung auf euch zu – und für uns unser Angebot der Hilfe für euch".

Dies wird unseren Diskurs mit eurer Menschenrasse eröffnen. Es ist eine Botschaft, die wir an Jeden richten werden, wenn der Moment dafür gekommen ist. Dieser Moment hängt von euch ab. Aber die Pläne, die bereitliegen für das, was darauf folgt, werden wie ein Uhrwerk ablaufen, denn das entspricht unserer Zielsetzung. Die Zeit, in der wir voneinander getrennt existiert haben, wird von Minute zu Minute kürzer; dann sind wir für immer mit euch zusammen. Wir spüren eure schwindende Zuversicht in diesem Prozess und euer mangelndes Vertrauen in unsere Bemühungen, diesen Prozess weiter voranzubringen. Wir werden euch jedoch nicht enttäuschen. Ihr dürft euch selbst nicht enttäuschen.

Ihr seid wahrlich großartige und machtvolle spirituelle Wesen, und eure Zeit ist gekommen, dieses Wissen auch zu leben. Wir bringen euch Freude, Liebe und innig empfundenen Frieden als unsere Geschenke an euch. Seid bereit für die nächste Phase in diesem Prozess, die euch nun bevorsteht.


Seid in Frieden.
Channeler: Wanderer of the Skies/
Himmelswanderer
Übersetzung: Martin Gadow
http://wandereroftheskiesrussian.blogspot.com/ - RUSSIAN
http://wandererinpolish.blogspot.com/ - POLISH
http://arabicwanderer.blogspot.com/
- ARABIC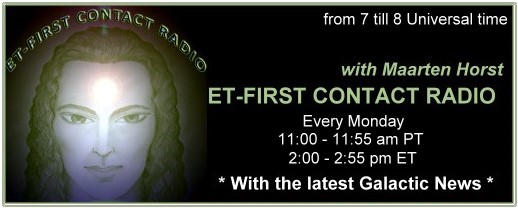 Every Monday night from 8 to 8:55 pm
channelings and related matters are being discussed on First Contact Radio.
The show is hosted by Dutch lightworker Maarten Horst and is presented in English.