The Galactic Federation through Wanderer of the Skies
Himmelswanderer 4. Januar 2012
Grüße von der Föderation!


Es ist gegenwärtig "viel los" auf eurer Welt, wie man so sagt. Bleibt "am Ball" mit eurem Scharfblick, denn es kann sein, dass es Leute gibt, die nur scheinbar von der Lichtseite sind, in Wahrheit aber das Gegenteil im Sinn haben, – und Andere, die scheinbar den Illuminati dienen, die euch in Wahrheit aber möglicherweise mit dem Gegenteil überraschen werden. Wir haben unseren Schutz auf diejenigen ausgeweitet, die ihn zurzeit am dringendsten brauchen, denn sie haben die massiven Anstrengungen der Illuminati gestoppt, einen großen Konflikt an der Wiege eurer Zivilisation anzuzetteln. Wir können nicht zulassen, dass dies geschieht, da die Planungen in Richtung des Unabänderlichen weitergehen müssen.

Wir haben jene Leute in unsere Ratsversammlungen mitgebracht, mit denen wir über die verschiedenen Parteien der Föderation bereits in Kontakt waren, um ihre Ansichten darüber zu diskutieren, wie man am besten mit den Streitfragen verfährt, die eure Lichtarbeiter gegenwärtig am meisten beschäftigen. Sie haben uns ihre Erkenntnisse und ihre Überlegungen mitgeteilt, und wir haben sie in unsere Gesamtplanung einbezogen.

Viele eure politischen Führungsleute wurden dahingehend irregeleitet, zu denken, sie hätten immer noch ein "Ticket fürs Boot", wenn die "Endzeiten" kommen, wie man sie glauben machte. Niemand hat sie darüber informiert, dass ihre Zufluchtsmöglichkeiten zerstört wurden, und deshalb unterstützen sie weiterhin Gesetzgebungen, die sich sogar auf ihre eigenen Familien destruktiv auswirken, die selig lächelnd ahnungslos sind hinsichtlich der Tatsache, dass die Konsequenzen ihres Handelns auf sie persönlich zurückfallen werden. Irrtümlich glauben sie, dass sie einen Ort haben, an den sie sich flüchten können. Wenn ihnen klargemacht wird, dass sie genau so zu leiden haben werden wie die Massen auch, wird das Erstaunen darüber, wie man sie getäuscht hat, auf die zurückprallen, die diese Täuschung ausgeheckt und an ihnen begangen haben, und ihr werdet die Annullierung vieler jener Fehler erleben, die von genau dieser Menschengruppe gestartet worden waren.

Die Intensität des Dramas, das sich da auf eurer Welt entfaltet, wird sich in den kommenden Monaten noch exponentiell erhöhen. Dinge, die ihr heute noch für eine unglaubliche Enthüllung gehalten habt, werden "Peanuts" sein – verglichen mit dem, was morgen geschieht, sowohl was dessen Ausmaß als auch dessen Konsequenzen betrifft. Die Dinge entwirren sich in konkurrenzlosem Tempo – und alle nach Plan.

Wir diskutieren weiterhin untereinander die verschiedenen Technologien, die im Zuge der Enthüllungen für euch freigegeben werden, und in welcher Reihenfolge sie enthüllt werden sollten. Mag euch dies vielleicht auch als geringfügige Angelegenheit erscheinen, so ist es doch äußerst wichtig, die Verbindung dieser Technologien untereinander zu begreifen, die wir besitzen, und wie sie sich schließlich auf euch auswirken werden. Die Tatsache, dass es sich dabei um die Enthüllung jener Technologien handelt, die Zugang zu dem ermöglichen, was ihr die "Akasha-Chroniken" nennt, bevor wir die Teleportations-Vorrichtungen enthüllen – zugleich mit den Replikations-Maschinen – das ist keine Kleinigkeit für uns! Denn wie wir euch schon viele Male sagten, wurde das, was für euch geplant wurde, bis ins kleinste Detail durchdacht, und das aus Gründen, die überwiegend erst nach den Enthüllungen klar sein werden.

Wir sagen euch: Erhebt euren Geist, seid voller LICHT und Freude, denn ihr verdient all diese Empfindungen. Wir haben für immer Ehrfurcht für eure Fähigkeit, euch auch von den finstersten Orten zu distanzieren, in die die Realität eurer Dimension euch führt. Das ist eine Leistung, die euren Status unter uns wert ist. Für uns habt ihr die Königswürde. Wir hegen zärtliche Gefühle für euch angesichts eurer demütigen Bescheidenheit in dieser Hinsicht. Wir wünschen euch einzig und allein LIEBE und Freude, während ihr diese letzten Augenblicke vor dem Unabwendbaren abwartet.


Seid in Frieden.
Channeler: Wanderer of the Skies/
Himmelswanderer
We are looking for new translators English-Romanian, English-Indonesian and English-Hebrew for Wanderer's messages.
We are a team of translators from all over the world (more than 100 people for 24 languages) that wants to spread messages of Unconditional Love and Spirit Light as far and wide as possible.
Would you like to join us? Please send an email to one of the Coordinators of this team,
aand we'll get back to you. Please understand that we are looking for native speakers (target language) to keep quality standards as high as possible.
http://wandereroftheskiesrussian.blogspot.com/ - RUSSIAN
http://wandererinpolish.blogspot.com/ - POLISH
http://arabicwanderer.blogspot.com/
- ARABIC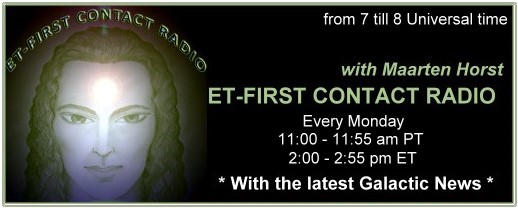 Every Monday night from 8 to 8:55 pm
channelings and related matters are being discussed on First Contact Radio.
The show is hosted by Dutch lightworker Maarten Horst and is presented in English.
;