The Galactic Federation through Wanderer of the Skies
Himmelswanderer 12. Januar 2012
Grüße von der Föderation!


Gegenwärtig wird das, was jetzt geschehen muss, auf höchster Ebene eurer Weltregierungen und durch Gesandte verschiedener anderer Regierungen überall auf der Welt hinter verschlossenen Türen diskutiert. Da der Zeitpunkt des Unabwendbaren immer näher rückt, sind sich eure Staatenlenker der Tatsache bewusst, dass sie die Gezeiten der Enthüllungen, die über eure Welt dahinschwappen, nicht mehr aufhalten können. Sie wissen, dass sie entweder durch diese "Tide" mit hinweggespült werden oder aber diese Enthüllungen selbst in die Hand nehmen und zu ihrer eigenen Sache machen müssen. Dass sie in dieser aktuellen Situation noch um dieses Thema herumfeilschen können, erstaunt auch uns, denn wir sehen, dass sie eigentlich um ein gemeinsames Terrain miteinander streiten. Sobald hier aber eine gemeinsame Ebene erreicht ist, distanziert sich dann irgendjemand wieder davon, und der ganze Vorgang beginnt wieder von neuem. Wir warten derweil im Hintergrund ab, was getan werden muss, falls es nicht von euren eigenen Leuten getan wird.

In Kürze werden euch Meldungen erreichen hinsichtlich einer "neuen" wissenschaftlichen Entwicklung auf jenem Gebiet, das ihr als Nullpunkt-Energie-System bezeichnet habt. Es wird zwar zunächst als "theoretische" Entwicklung apostrophiert werden, aber in Wirklichkeit ist es ein funktionierendes Modell einer realen Energieversorgungs-Einheit, die bereits vor langer Zeit gebaut worden ist, aber erst jetzt freigegeben wurde. Das wird interessante Entwicklungen auf dem Gebiet der Patentschutzrechte nach sich ziehen. Die "Neuigkeiten" über diesen Durchbruch werden von den Machthabern genau beobachtet werden, um herauszufinden, wie eine derartige Enthüllung auf die Bevölkerung als Ganzes wirkt.

Die Queen von England hat die Kontrolle über eine Fraktion der Illuminati an eine Gruppe abgetreten, über die unsere Verbündeten "beratende" Privilegien haben. Dies bedeutet auf längere Sicht, dass diese Fraktion zugänglicher sein wird für den notwendigen Wandel, der in die Enthüllungen mündet und eine Lösung des Zugriffs der Kabalen auf die Bevölkerung bewirkt. Dies war ein "Frieden", der nach vielen, vielen Monaten der Positionierung aller Seiten ausgehandelt werden konnte. Wir sind zuversichtlich, dass damit eine weitere Hürde auf dem Weg zum Unabwendbaren erfolgreich beseitigt werden konnte.

Ihr werdet in jüngster Zeit eine geringfügige Zunahme der Sichtungen (von UFOs) bemerkt haben, wenn auch Sichtungen, die es bis in eure Nachrichten geschafft haben, mehr spektakulärer Natur waren. Dies wird sich ändern. Wir befinden uns jetzt in einem neuen Stadium dieses Enthüllungsprozesses, in dem die Enttarnung unserer Raumschiffe für euch deutlicher werden wird.

Kürzlich fand ein großes Treffen aller Fraktionen der Föderation statt. Das war ein ganz großes Ereignis, nicht nur, was die Zahl der Teilnehmer betrifft, sondern auch, was die Wichtigkeit dieses Treffens betrifft. Es war ein abschließendes Vorbereitungstreffen aller Beteiligten mit dem Ziel, alle Details der kommenden Ereignisse durchzugehen, einschließlich politischer, gesellschaftlicher, religiöser, emotionaler, mentaler und physischer Auswirkungen der Enthüllungen. Dieses Treffen wurde an Bord eines unserer großen Mutter-Raumschiffe abgehalten, eine lebendige Maschine, die so riesig ist, dass sie eure Vorstellungen von der möglichen Konstruktion eines solchen Raumschiffes bei weitem in den Schatten stellt. Obschon eine solche physische Räumlichkeit eigentlich für diesen Vorgang gar nicht notwendig gewesen wäre, da wir die meisten Besprechungsthemen von Zeit zu Zeit telepathisch miteinander diskutiert haben, kommen wir dennoch physisch zusammen, weil wir auf diese Weise zu besseren Lösungen gelangen. Unter den Repräsentanten befanden sich auch Menschen von der Erde, die ihre Ansichten zur Sprache brachten, und deren Meinung sehr hoch geschätzt wird.

Obwohl ihr im Laufe der Jahre von vielen Rückschlägen heimgesucht wurdet, sind wir dennoch ganz aufgeregt angesichts der Aussichten der kommenden Monate und dessen, was diese für uns Alle bereithalten. Bringt euch dazu, wieder die freudige Erregung zu spüren über die jetzigen Zeiten, in denen zu leben ihr euch entschieden habt, – und über die Art und Weise, in der ihr zur Wahrheit erwacht seid. Eure Gedanken werden Energiewellen erzeugen, die als Leuchtfeuer für die Wahrheit dienen werden, und diese Wahrheit wird machtvoll zu euch zurückkehren.

Seid in Frieden.
Channeler: Wanderer of the Skies/
Himmelswanderer
We are looking for new translators English-Romanian, English-Indonesian and English-Hebrew for Wanderer's messages.
We are a team of translators from all over the world (more than 100 people for 24 languages) that wants to spread messages of Unconditional Love and Spirit Light as far and wide as possible.
Would you like to join us? Please send an email to one of the Coordinators of this team,
aand we'll get back to you. Please understand that we are looking for native speakers (target language) to keep quality standards as high as possible.
http://wandereroftheskiesrussian.blogspot.com/ - RUSSIAN
http://wandererinpolish.blogspot.com/ - POLISH
http://arabicwanderer.blogspot.com/
- ARABIC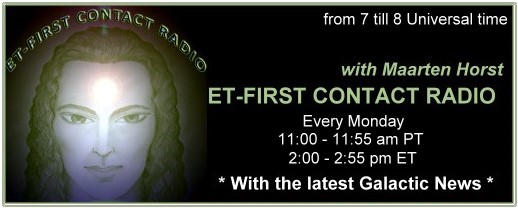 Every Monday night from 8 to 8:55 pm
channelings and related matters are being discussed on First Contact Radio.
The show is hosted by Dutch lightworker Maarten Horst and is presented in English.