The Galactic Federation through Wanderer of the Skies
Himmelswanderer 18.Februar 2012
Grüße von der Föderation!


Wir sprechen heute über die Beschleunigung der Dinge, die sich jetzt auf jeder Ebene eurer Realität vollzieht. Es ist nicht die "Beschleunigung" der Zeit, wie ihr vielleicht meint. Zuweilen entspricht dies einfach eurer Wahrnehmung, aber nicht der "Realität" der Zeit an sich. Wir sprechen hier vielmehr über die Beschleunigung all dessen, was dem "Stoff" der Realität eurer Welt unterworfen ist.

Es sind starke Geräusche an eurem Himmel zu hören. Sie sind real, sie geschehen, und sie gehören zu diesem Beschleunigungsprozess. Es wird für die Mächtigen jetzt überdeutlich, dass all das, was sie anhand ihrer Zeit-Technologie beobachtet haben, nun um sie herum zur Realität wird. Diese Geräusche sind ein weiteres Gebiet der Fortschritte hin zu jenem Prozess, der den dauerhaften Wandel herbeiführen wird, auf den ihr gewartet habt. Aber dieser Wandel wird nicht in großen Quantensprüngen daherkommen. Er wir sich allmählich aber unleugbar vollziehen.

Die Beschleunigung wird auch die Art und Weise beeinflussen, wie das Gebiet der Kommunikation in eurer Realität auf jeder Ebene weiterentwickelt wird. Ihr werdet die Dinge mehr und mehr spüren und immer weniger der Sprache bedürfen, um deren Bedeutung zu übermitteln. Auch eure Technologien, die euch bei eurer Kommunikation helfen, unterliegen auf ihre eigene Weise weiteren Veränderungen. Ein weiterer "Durchbruch" wird bald in der Technologie der Radiowellen bekannt gemacht werden hinsichtlich Art und Weise, wie diese über euren Globus verbreitet werden.

Das Erschaffen durch Gedanken – hinein in die physische Realität – ist ebenfalls von diesem Beschleunigungsprozess beeinflusst. Die Zeit zwischen Erschaffung der Gedankenform und deren Umsetzung in die Realität der 3.Dimension hat sich dermaßen verkürzt, dass ihr in der Lage sein werdet, entsprechende Intentionen auf wesentlich effektivere Weise zu manifestieren. Dies sind einige der nützlichen Auswirkungen einer höherdimensionalen Existenz, die euren künftigen Weg säumen.

Und da diese Veränderungen in eurer Realität Halt gewinnen und eure kollektive Denkweise sich diesen Veränderungen allmählich anpasst und sie als etwas "Natürliches" und "Alltägliches" empfindet, können wir auch mit unserem Enthüllungsprozess beginnen. Damit dies geschehen kann, müssen viele Dinge ins Spiel kommen. Wir bereiten uns auf die nächste Phase unserer geplanten Strategie für die Enthüllungen vor. Sie erfordert mehr Dinge als hier ausgeführt werden kann. Ihr könnt jedoch einen wesentlich persönlicheren Zugang zu unserer Existenz erwarten als ihr bisher gewohnt wart. Der Rest wird sich auf eigene Weise entfalten.

Erwartet eine wichtige Bekanntmachung auf dem Gebiet der Finanzmärkte, die auf den ersten Blick ohne Beziehung zu irgendetwas von dem zu sein scheint, was ihr sonst so verfolgt habt. Sie wird endlich der einläutende Ruf sein, der den Start der ersten von vielen Veränderungen in wichtigen Bereichen eurer Realität verkünden wird – in einer Kaskade von Geschehnissen, die in den kommenden Monaten die Norm sein werden.

Räumt allezeit eurem Herzen und eurer LIEBE den Vorrang ein. Bringt sie zum Ausdruck, dann wird diese Einstellung erwidert und wird euch in diesen anstrengenden Zeiten erhalten und schützen. Wir stehen allezeit in Ehrfurcht vor euch und euren Fähigkeiten. Wir sind nur einen Gedanken weit von euch entfernt.


Seid in Frieden.
Channeler: Wanderer of the Skies/
Himmelswanderer
We are looking for new translators English-Romanian, English-Indonesian and English-Hebrew for Wanderer's messages.
We are a team of translators from all over the world (more than 100 people for 24 languages) that wants to spread messages of Unconditional Love and Spirit Light as far and wide as possible.
Would you like to join us? Please send an email to one of the Coordinators of this team,
aand we'll get back to you. Please understand that we are looking for native speakers (target language) to keep quality standards as high as possible.
http://wandereroftheskiesrussian.blogspot.com/ - RUSSIAN
http://wandererinpolish.blogspot.com/ - POLISH
http://arabicwanderer.blogspot.com/
- ARABIC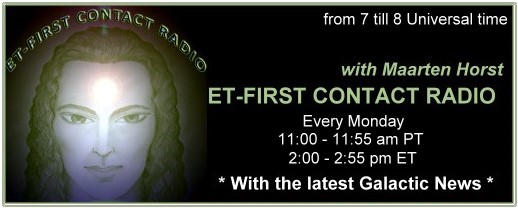 Every Monday night from 8 to 8:55 pm
channelings and related matters are being discussed on First Contact Radio.
The show is hosted by Dutch lightworker Maarten Horst and is presented in English.