The Galactic Federation through Wanderer of the Skies
Himmelswanderer 14. October2011
Grüße von der Föderation!

Wir kommen erneut, um weitere Lücken in den Informationen zu füllen, die ihr in letzter Zeit bekommen habt. Es zeigt sich, dass immer mehr geschieht auf eurer Welt, und dass die Dinge, auf die ihr euch vorbereitet habt, sich immer rascher vorwärts entwickeln. Und so war das auch geplant. Ihr befindet euch nun am Beginn der Veränderungen, die sich da vollziehen und über die schon so lange gesprochen wurde. Und wenn das alles tumultartig erscheint, liegt in den Vorgängen selbst begründet.

Eine gewisse zeit lang haben die Illuminati versucht, herauszufinden, was wir planen und was unsere Pläne für die Zukunft der Menschheit sind. Sie haben auf alle nur denkbare weise versucht, an diese Informationen heranzukommen. Sie haben versucht, all jene zu beobachten, die wir bereits jahrelang kontaktiert haben; sie haben versucht, unsere Raumschiffe herunterzuschießen, um an unsere Technologie zu kommen, aber auch für die Chance, Zugang zu einem Mitglied der Föderation zu bekommen in der Hoffnung, diesem Wesen Informationen zu "entlocken"; sie haben telepathisch begabte Krieger eingesetzt, um unsere Aktivitäten "ausspionieren" zu können, während wir im Orbit eurer Welt und in unseren verschiedenen Stützpunkten tätig waren. Was das betrifft, so haben sie nicht mit unserer Technologie gerechnet, die ein derartiges "Remote Viewing" entlarven und willentlich abblocken kann. Sie haben alle Mögliche versucht und waren dennoch erfolglos.


Der Jahrestag unseres "Datums", das wir euch vor drei Jahren gegeben hatten, ist gerade wieder vorbei. Dieses Datum wurde aus einer Reihe von Gründen genannt. Doch während wir jede Absicht hatte, dieses Datum zu würdigen, wussten wir andererseits auch, dass es sehr eingehend von den Illuminati beobachtet wurde, und daher haben wir überwacht, was sie als Reaktion darauf taten, und warum sie es taten. Mehr Details darüber können jetzt nicht preisgegeben werden. Aber wir waren nichtsdestoweniger in der Lage, alle Bewegungen vorauszusehen, die da getätigt werden konnten, berücksichtigt man die begrenzte Kapazität, die den illuminati zum Handeln zur Verfügung steht.


Überall warten die Lichtarbeiter auf gewisse äußere Anzeichen dafür, dass die Pläne vorankommen. Wir sage dazu: Seht euch jetzt einfach um; denn alles, was ihr seht, ist Bestandteil des Plans und ein unverhohlenes Zeichen. Die Zerstörung der Untergrund-Basen, die Bewegungen großer Menschmassen, die sich vereinen zum Protest gegen die Ungerechtigkeit auf eurem Planeten, und die Reaktion der Medien auf dieses Geschehen, die Reaktion der so genannten "Elite", und eine Vielzahl weiterer Fakten, die es wert sind, dass ihr darüber nachdenkt. Fokussiert euch weiterhin entschlossen auf die Enthüllungen; dann werden sie geschehen.

In Kürze wird es eine "Korrektur" im Energiefluss Gaia's geben, die es erlauben wird, weitere Energie zu ihren Gunsten umzulenken. Die Auswirkungen werdet ihr nicht ignorieren können, aber sie werden nicht von der variierten Art Menschen- gemachter Auswirkungen sein, und deshalb besteht kein Grund zur Angst oder Panik. Habt zudem ein wachsames Auge auf die Berichterstattung in euren Medien und deren Umgang mit den vielfältigen Sichtungen überall auf eurer Welt. Es gibt da bereits subtile Veränderungen in der Art und Weise, wie diese Meldungen präsentiert werden. Das wird die Art beeinflussen, in der umfassendere Themenbereiche in naher Zukunft diskutiert werden, was schließlich als Wegweiser für den Wandel in diesen Dingen dienen wird.


Wir denken ständig an euch in diesen abschließenden Momenten, die zu den großen Veränderungen auf eurer Welt führen. Wir sind stolz, eure Geschwister zu sein, und senden euch unsere Liebe.
Seid in Frieden.
Channeler: Wanderer of the Skies/
Himmelswanderer
Übersetzung: Martin Gadow
http://wandereroftheskiesrussian.blogspot.com/ - RUSSIAN
http://wandererinpolish.blogspot.com/ - POLISH
http://arabicwanderer.blogspot.com/
- ARABIC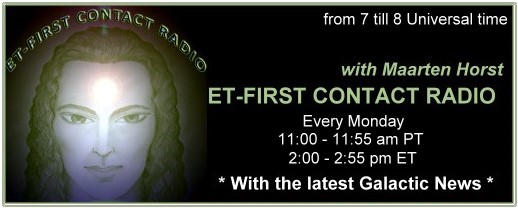 Every Monday night from 8 to 8:55 pm
channelings and related matters are being discussed on First Contact Radio.
The show is hosted by Dutch lightworker Maarten Horst and is presented in English.